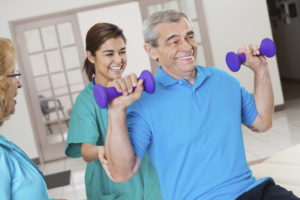 Rehabilitation and therapy is a team effort – carefully coordinated by a dedicated team of physicians, nurses, social workers, and therapists for physical, occupational, respiratory, and speech rehabilitation. We work closely with you and your family to develop a customized rehabilitation program that challenges you to rise above today's limitations to work toward wellness.
Depending on your situation, your rehabilitation program may include:
Medical treatment with our physicians
Mobility and Physical Therapy
Pulmonary rehabilitation and Respiratory therapy*
Building independence
Occupational therapy and skills of independent living
Speech therapy and language skills
Personal care with a social worker
Park Manor of Westchase is equipped with a rehabilitation gym, where you'll have the opportunity to work one-on-one with your therapist in an environment created especially for recovery. Our goal is to help you create a stronger, healthier future by equipping you with the strength and skills to manage your condition and care for yourself.
Check out our Testimonial page to learn more about our Rehabilitation successes.
*Available at some locations
Discover the Difference…..call 281-497-2838 to schedule a personal tour, stop by or email us for more information.